What to do…
Life is meant to be lived, enjoyed to the fullest, and here at Clemson Downs we don't hold back!
Clemson Downs employs five full-time activities directors, one for each of our levels of care, independent living, assisted living and two for our skilled nursing care. Each director tailors the activities for their specific area and also work well together on campus-wide events, ensuring all residents are involved. Clemson Downs also provides weekly bus routes to area grocery stores, Walmart, and the Central Clemson Recreational Center for warm water aerobics and other classes.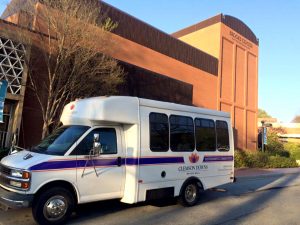 Following is an overview of the weekly and monthly activities that our Independent Living residents can enjoy, evenings out at the Brooks Center for the performing arts on campus at nearby Clemson University and dining at local restaurants. Weekly and monthly shopping trips to area malls and boutiques, as well as regularly scheduled trips to Walmart and area grocery stores for any essentials. Other activities include, visiting entertainers, parties, luaus, pep rallies, classic and current movies, operas, card games, bingo, holiday parties and many, many other opportunities for fun.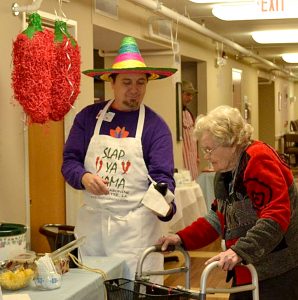 Our assisted living activities coordinator is dedicated to incorporating daily activities into the lives of our residents. Our activity program is planned with the intentions of enhancing the well-being of the residents and promote physical, cognitive, and emotional health. There are planned activities that promote self-esteem, pleasure, education, independence, and creativity. The following is a synopsis of programs carried out by our staff and community volunteers, wellness programs including strength and cardio, crafts and cooking hour, music education programs, trips off campus are taken year-round to several area attractions, including an outing by boat in the fall. Our activities are coordinated with the season and we have many holiday parties as well afternoon teas and socials, weekly religious services are offered as well as bible studies. One-to-one activities are also provided for those residents that need individualized care.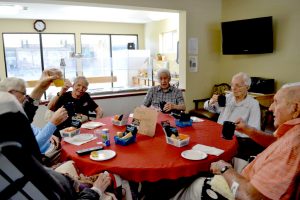 Our skilled nursing activities coordinator provides specialized activities, programs, and events to meet the needs of our residents who require skilled care. The activities include music programs and concerts, art classes in the Martha Getchell Art Room, as well as interactive exercise and walking groups. There are also makeovers for our ladies and holiday-themed parties including celebrations of birthdays and anniversaries. Skilled nursing also has a resident rabbit named Riggs, Riggs is a wonderful companion to all of our residents and enjoys being petted and loved.
As is evident by the above descriptions, Clemson Downs is an exciting, vibrant and active community, with engaging and stimulating activities for every stage of life.
For more information contact: Clemson Downs: (864) 654-1155